Dr Tom Barber has authored a number of books, with his latest co-authored title reaching Amazon #1 Bestseller. For more about Tom's research click here.
A number 1 bestselling author, Tom enjoys presenting his expertise in psychological methods and techniques through his books and articles. He helps people with varying challenges, such as performance enhancement, anger management, trauma, addictions, and improving emotional intelligence, to name a few. See below for Tom's latest books.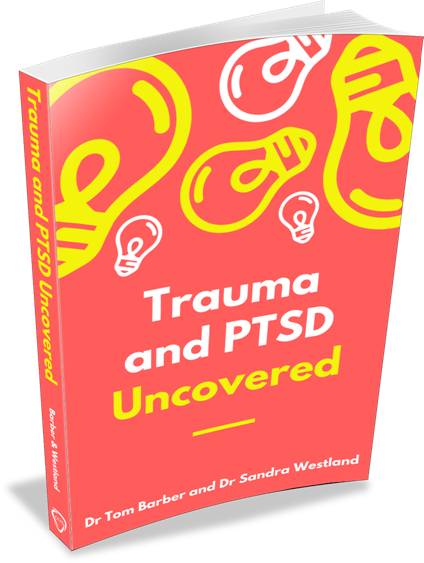 A vast majority of people are exposed to trauma at some point in their life. In many cases this can lead to PTSD, or post-traumatic stress disorder.
Do you suffer with eating issues or sleep disturbances, low energy, chronic or unexplained pain?
Are you bursting into tears for no reason, suffering with intense anxiety, panic attacks, have compulsive and obsessive behaviours, or feel depressed?
Are you irritable, angry or numb?
Do you have memory lapses, find difficulty in making decisions, have decreased ability to concentrate (brain fog), or feel distracted?
If you answered yes to any of these questions, then you are not alone. They are all signs that you have suffered a trauma at some point in your life and are struggling to manage. The effects of trauma can manifest days, months or even years after the actual event. So it doesn't matter when the traumatic event happened, it can still be influencing you and keeping you from living fully in the present and from feeling alive.
To find out more about trauma and PTSD, and how to help your clients, yourself, or somebody you know that needs help, get this new book by leading trauma experts Dr Tom Barber and Dr Sandra Westland.
"Brilliantly written, easy to understand, and makes more sense than a lot of therapy books I've read, and I have. Clinical books can often be full of jargon and long words. This isn't. If you want to understand more about trauma and PTSD then you need this. Whether you have/had trauma or PTSD, know someone who has, or are looking at how best to support people in work, or you are a practising clinician, this book is professionally written but made far easier to understand. HIGHLY RECOMMENDED!
– Leonora Fletcher – Lp.NLP., m.NHS, NCS, ABNLP, Lp.TLTA, Dip.PsychCsl(sp)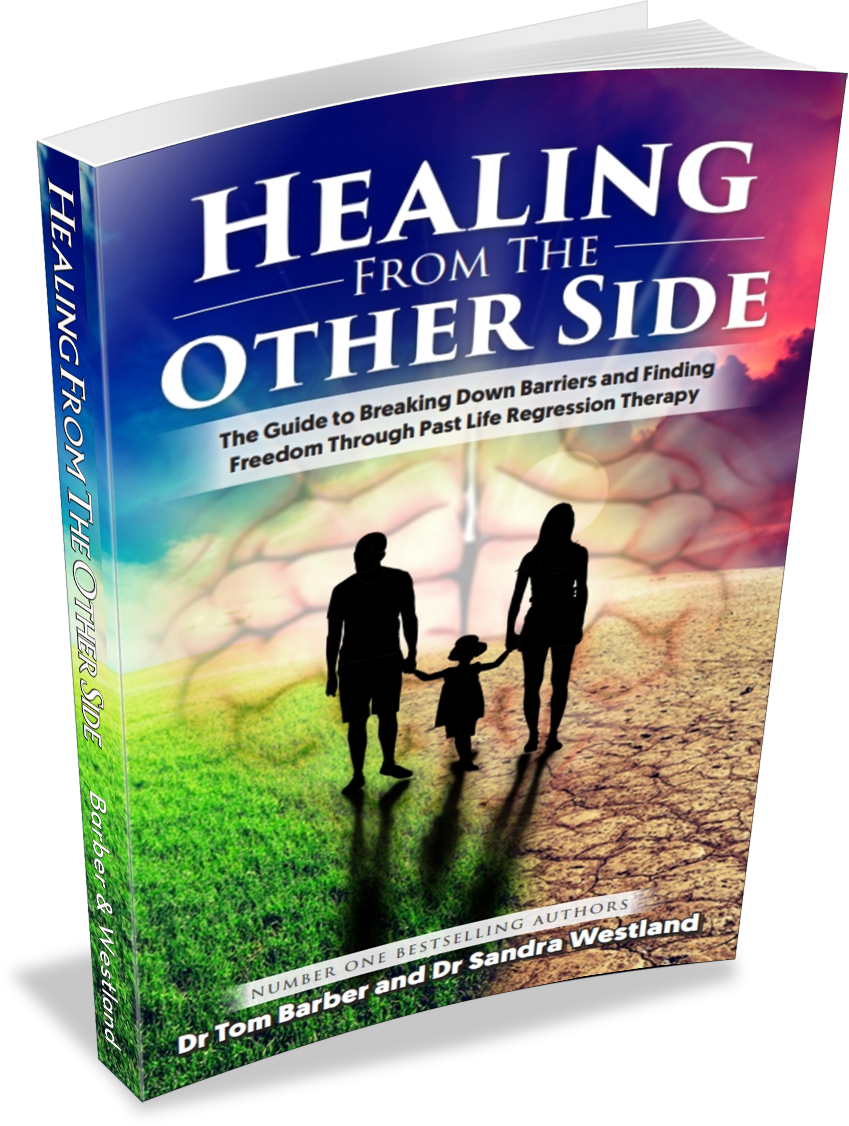 Experience a Journey Through Time and Discover Who You Are, Why You're Here, and How to Live a Meaningful Life.
Are you struggling to change aspects of your life, no matter how hard you try? Do you find you're repeating the same patterns time and time again? Do you feel as if your life is ruled by fate, leaving you feeling out of control?
In Healing from the Other Side, you will discover how to:
Understand why your life has worked in the way that it has.
Experience a greater connection to yourself and other people.
Awaken your soul and discover a more enlightened existence.
Heal physical, emotional, and relational struggles.
Find your true purpose and align yourself to a meaningful life.
Includes real live videos of actual Past Life Transpersonal Therapy sessions, with audio downloads to take you on your past life journey.
"Healing from the Other Side is an extraordinary book, taking you deeper into your own existence in a profound and loving way." – Professor María Guadalupe Medina Gallardo, PhD, Founder of the Instituto de Psicoterapia Humanista, Mexico.
"Anyone who reads Healing from the Other Side will feel well-equipped to start doing Past Life Therapy themselves in a safe and structured way." – Dr John Rowan, Author of The Transpersonal and The Reality Game.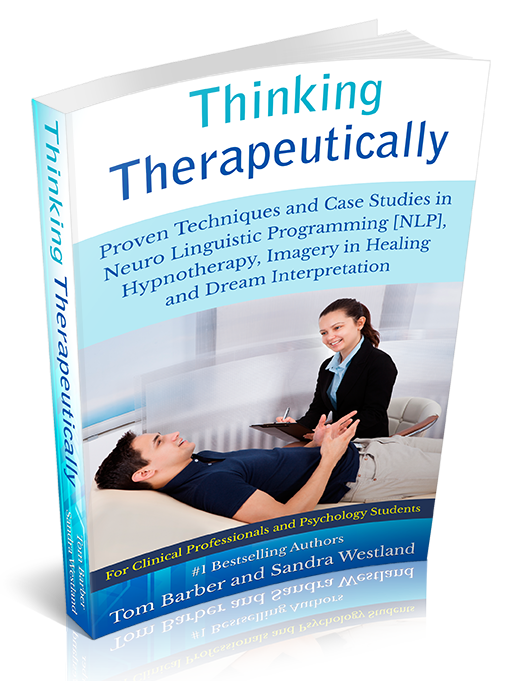 Thinking Therapeutically
Delve into the mind of two experienced therapists, as Tom and Sandra introduce you to some of their most successful therapeutic techniques. Thinking Therapeutically is their first published book.
Learn how to use Neuro Linguistic Programming, Hypnotherapy, and Guided Imagery to deal with a wide variety of problems. In addition, get to know how Tom and Sandra think in real time, as they work with their clients psychology and behaviour, and additionally critique each-others therapeutic work.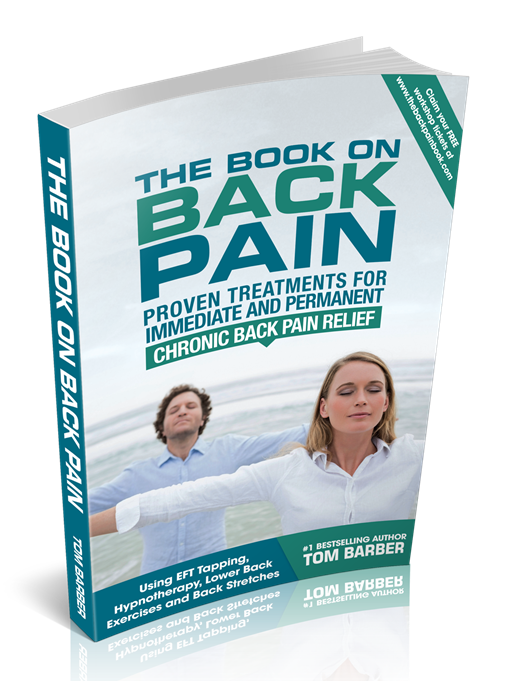 The Book on Back Pain
Are you suffering from back pain, or any other kind of physical pain, such as frozen shoulder, arthritis, PMS, or migraine? In this award winning book, Tom shares some of the most successful mental strategies he has used over the last 20 years in helping people all over the world overcome pain through the power of their mind.
The exact methods Tom uses in his pain control workshop are covered in detail in this text. The techniques will help you to get relief back in your life, and guide you how to manage your mind-body connection more powerfully.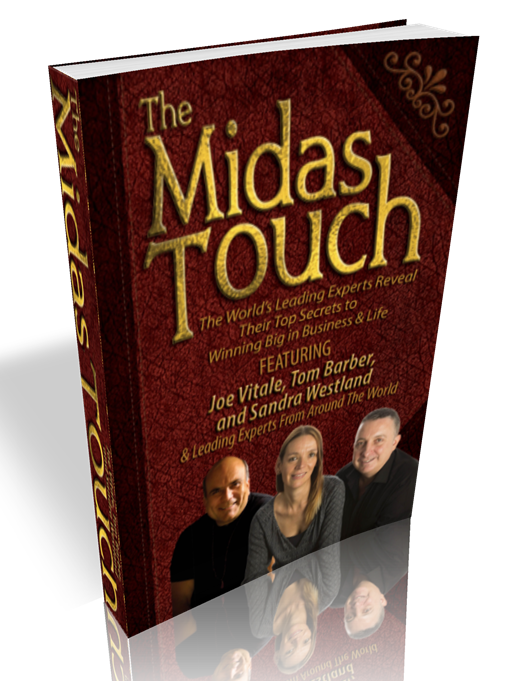 The Midas Touch
In this anthology, you can learn from a rich and experienced body of successful people, about their journeys to the top of their professions. You will discover how their connection to meaning and purpose helped them in their quest to become the best they could be.
Led by Dr Joe Vitale of 'The Secret' fame, and Dr Tom Barber and Dr Sandra Westland, you can now see how the Law of Attraction works in real life situations, and learn how you too can apply the same principles in your own life, to get you the success you deserve.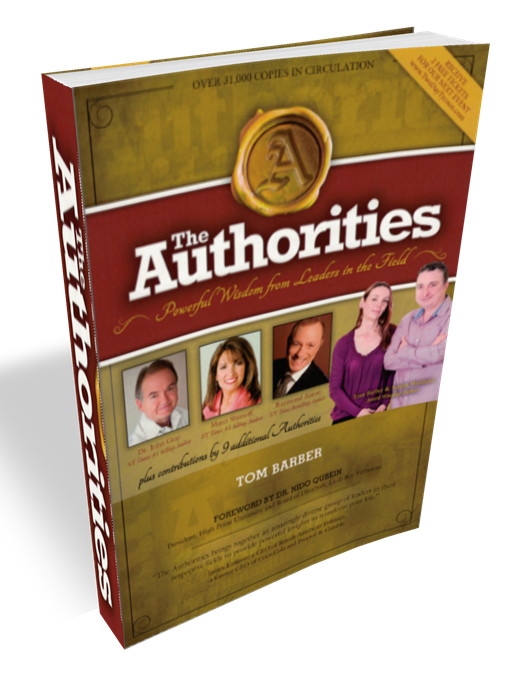 The Authorities
The Authorities brings together another body of world class authors, to share their secrets of powerful growth and wisdom, as leaders in their respective fields.
Along with Dr Tom Barber and Dr Sandra Westland, Dr John Gray of the 'Men are From Mars & Women are From Venus' fame, and Marci Shimoff, the NY Times Bestselling author of 'Love for No Reason', share their unique insights.
Learn how to develop in areas such as happiness, relationships, love, consciousness, success, and many other areas of life and business.